The opening round of the Rotax MAX Challenge Euro Trophy 2021 was a most welcome return to the four round series, after the cancellation of the last edition in 2020 under lockdown and RMCET Winter Cup in Spain last February. Although the situation continues to be difficult for race organisers due to the many restrictions and rules, series promoter Camp Company, with the support of Karting Genk, ensured the health of the competitors was their priority. Another major factor that influenced the event was the crazy weather. Still, 22 countries were represented by 153 drivers in four Rotax categories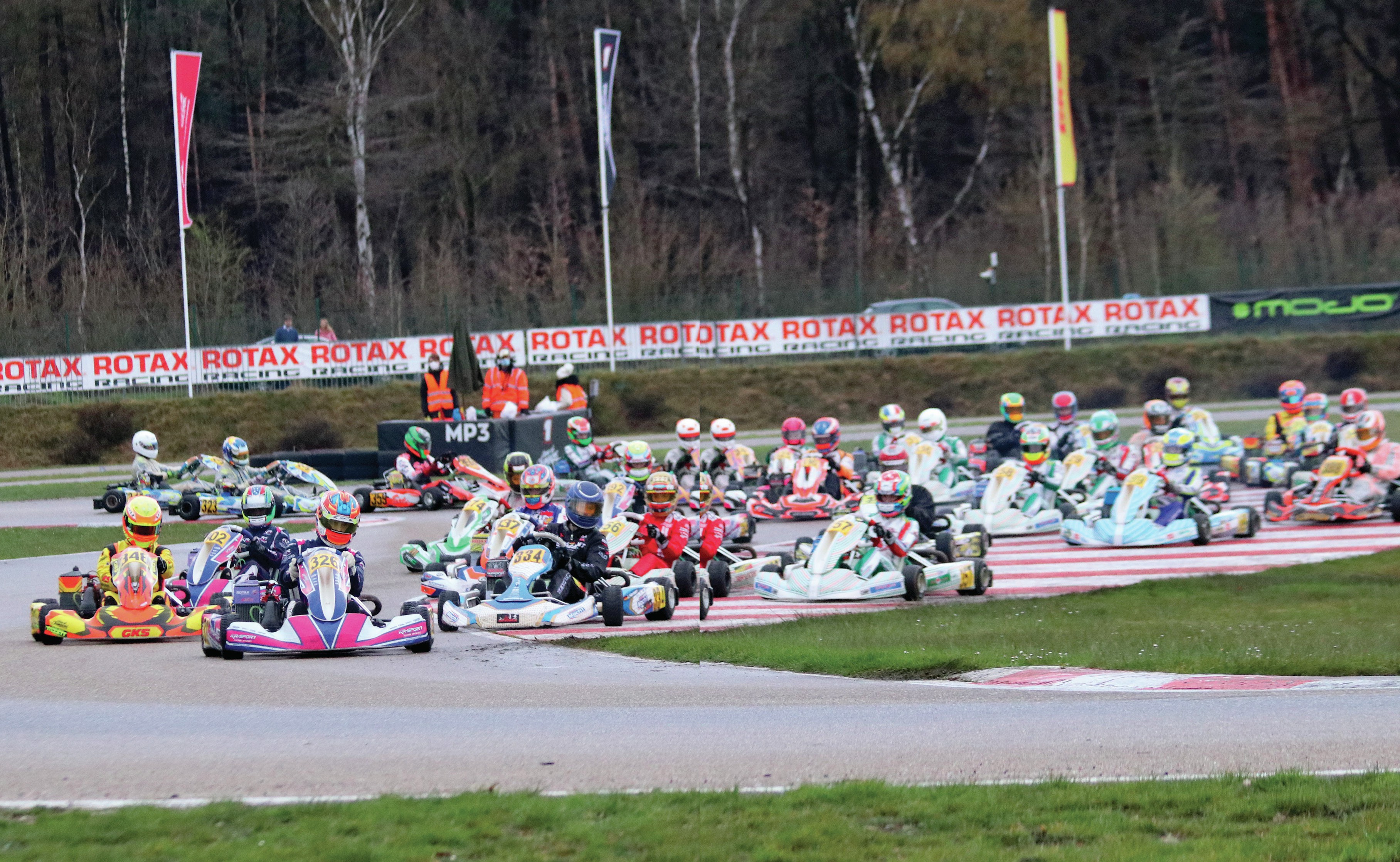 In Junior MAX, it was European champ Kai Rillaerts (Exprit-JJ Racing) 54.970 who secured pole in Group 2; the only driver to beat 55-seconds. Tom Braeken (KR-SP Motorsport), quickest in Group 1 was P2 and Thomas Strauven (Tony Kart-Strawberry Racing) P3. Unbeatable in the wet, Rillaerts took victory in all three of the exciting heat races Saturday, saying he was "really happy with the results, even if it was difficult due to the weather and a lot of water on the track at times that made it hard to get the perfect line". Braeken joined him on the front row Sunday morning and made a successful bid for first, pushing hard to fight off any threat of losing his lead to the pole-sitter. His Dutch teammate Tim Gerhards was third ahead of a close finishbetween Antoine Broggio and Marius Rose. At 4°C and no rain, the circuit was still wetter in parts for Final 2, perhaps to the benefit of Rillaerts starting on the outside. Braeken was too late on the brakes so Gerhards went through to lead. There was wheel-to-wheel action as Strauven moved up to head the chase, but Gerhards stretched the gap to over four seconds. Rillaerts finished in P3 and on the podium, while Braeken's P4 was enough to earn the pace-setter second for an SP Motorsport 1-2.
Senior MAX had a star-studded field of 70 entries, bringing experience and young talent together. Leading British driver Rhys Hunter (EOS-Dan Holland Racing) topped the Group 1 timesheet in qualifying 53.749, one of 12 UK seniors including current World OK Champion Callum Bradshaw. However, it was two of his Tony Kart-Strawberry Racing teammates that set the best laps in their respective groups to rank P2 and P3; former Junior MAX World #1 and first round BNL winner Mark Kimber and former British champ Lewis Gilbert. The rivalry was clear when one second covered almost 60 drivers. Kimber ranked top in Saturday's racing with three victories from four heats for pole in Final 1 alongside Bradshaw, and an outstanding performance by local mud-runner Dylan Lehaye (Exprit-GKS Lemmens Power) on equal points P3. The pole-sitter led from the lights, setting fastest lap to take a convincing win, Lahaye was third, caught by Bradshaw mid-race distance. Taking the gamble, the English team ran their drivers on slicks for Final 2, leaving the row 1 duo swallowed up by the field. Aussieturned-United Arab Emirates racer, Lachlan Robinson (Kosmic-KR Sport), came out in the lead on wet tyres with Lahaye in pursuit. The places changed, and with minutes to go, the front-runners showed up again as the track dried out. Kimber slid offline giving Bradshaw some space out front, but a dislodged fairing reversed the result handing Strawberry's Kimber his second win in two weekends at Genk. A start penalty relegated Lahaye to fifth and P4 in the points, promoting Robinson to P3 and the podium, with Hensen (Mach1-Kartschmie.de) fourth.
Pole in Rotax DD2 in a class of 37 was local Glenn Van Parijs (Tony Kart-Bouvin Power), BNL 2020 winner and Euro runner-up, with 53.304 in his third lap. Group 2's Ville Viiliaeinen (Tony Kart-RS Competition) was P2 and Xander Przybylak defending his DD2 title in P3, 2-tenths off his Group 1 rival. The Euro champion excelled in the wet for a clean sweep of the heats, edging out RMCGF 2018 winner Paolo Besancenez (Sodi-KMD) and Van Parijs in the ranking.
In Final 1, it all went wrong for the Belgians going side-by-side in the opening lap; Przybylak fell out of contention. 19-year-old Mathias Lund (Tony Kart-RS Competition) took the honours ahead of France's Besancenez and Petr Bezel (Sodi-KSCA Sodi Europe). A sprinkle of rain dampened the track as Final 2 began, resembling a full-course yellow for five minutes before they were up to speed. Ultimately, it was about set-up and staying on track! Bezel led until Martijn Van Leeuwen (KR-Schepers Racing) drove by to a five second win. Actionpacked racing shuffled the field, but Denmark's Lund took P3 and the Euro Trophy win. Bezel, fastest in both finals was second ahead of Van Leeuwen of the Netherlands third overall.
In his Rotax DD2 Masters RMCET debut, Paul Louveau (Redspeed-DSS) took pole 53.859 in a French majority of the 32+ category, ahead of Tom Desair (Exprit-GKS Lemmens Power) and former Euro champ Slawomir Muranski (Tony Kart-46Team). There were several champions, yet it was Winter Cup winner Rudy Champion (Sodi), third in the series last year, that won two heats to be on grid 1 beside Louveau for Final 1 and Belgian Ian Gepts (KR) ranked third.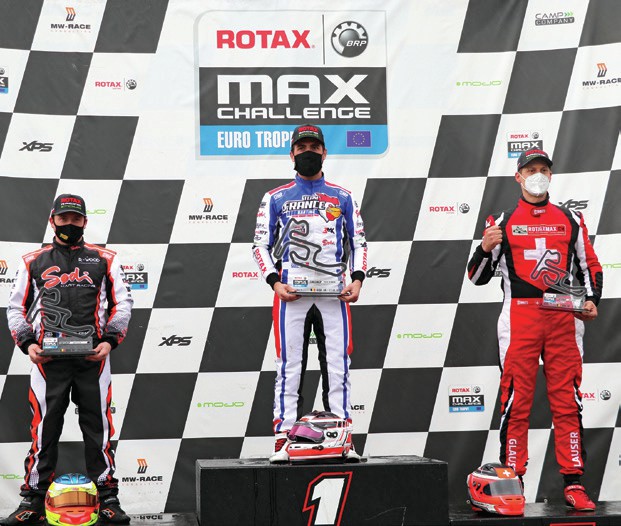 The local led early, but Louveau showed up for the win with Roberto Pesevski (Sodi-KSCA Sodi Europe) RMCGF 2019 #1 in his return in third. While the close battles raged on behind, Louveau got away, unchallenged on the dry track with laptimes 16 seconds faster than the first final. Muranski was clear in P2, while a three-way dice between Pesevski, Champion and current champ Sebastian Rumpelhardt (Tony Kart-RS Competition) unfolded – amongst others. At the end of the 16 laps, the official results showed Louveau for the win over countryman Champion and Swiss Master Alessandro Glauser (Kosmic-FM Racing) third.
---
Post time: May-26-2021